From a young age I rebelled against authority and questioned everything. It was never enough for me that everybody else did it, and being told, "that is how we have always done it" didn't make sense to me. I have always needed to know why and I could never stand injustice or arbitrary rules whether it was in the home or out of it.
As a teenager I stepped outside the box. The local public schooling system was woefully inadequate when it came to creating relevance and interest and I left school as soon as I could find a job. I wanted to be independent and free. When I entered the work force it because incredibly obvious that I was treated differently because I was female. I had experienced this sexism from a young age but it wasn't until this time that I realised what an impact a misogynist society could have on my health and well-being. Whether it was inappropriate comments, sexual harassment or the outdated 'boys club' mentality, I spent the next decade simultaneously fighting and trying to be accepted by the patriarchal corporate world.
"I realised that people who believed in equity between the sexes were called Feminists!"
The Corporate 'Rite of Passage'
In my late teens as I was battling one of my worst episodes of depression. I finally went to the doctor and my local GP reluctantly gave me anti-depressants while also handing me the book by Naomi Wolf "Fire with Fire". It was then that I first realised that I wasn't crazy, that the way I was being treated was wrong and that the word for women who would not accept being objectified, treated as subordinate or regarded as a second-class citizens was 'Feminist'.
This realisation was one of the first steps towards changing my world. To save my sanity I looked outside of my working life for more meaning and satisfaction. I took part in rally's and marches like 'Reclaim the Night". I volunteered at the Women's Legal Service and became a Convener for the Qld Branch of the Women's Electoral Lobby. Stepping out of reaction and victimhood was empowering and this was the start of my life long passion in supporting other women step out of their stories of suffering and into a life of self-empowerment.
My own experiences have made me a fierce champion of women's rights and my passion for equity has never faded!
The Kahuna and Shamanic 'Rite of Passage'
Over the years I found more and more women's gatherings and events to take part in and it literally saved my soul and my sanity. During one women's weekend I received a Kahuna Massage, only for 15minutes, but in that extended moment I knew that I wanted to be able to help other people feel the same way.
I wanted to add value, pleasure and healing into people's lives. After 12 years in the corporate world I had finally had enough! I quit my job and I began studying Kahuna Bodywork. At the same time as discovering this ancient Polynesian Healing system and Huna philosophy I was also initiated into a Native American Shamanic tradition. Both of these ancient teaching pathways showed me a new way to live my life, one that was powerful, heart-centred, spiritual and magical.
The Birthing and Motherhood 'Rite of Passage'
During my initial studies in Kahuna Bodywork I found out I was pregnant; this was an unexpected and not so welcome surprise. I was in the process of separating from my boyfriend at the time so the following weeks and months were an emotional rollercoaster. It took me a while to come to terms with this new life growing inside of me and the new future being presented. My birth experience was traumatic and I suffered deeply from postnatal depression. Yet through the haze I just kept on, being strong, independent and resilient to the best of my ability. I was so used to doing things on my own, so used to being independent and strong that it was difficult to accept help even on the rare occasions that it was offered. I didn't want to admit that I felt like I had failed as a woman birthing, as a Mother parenting and as a Feminist who should be able to do it all.
My birthing experience sent me on an extended healing journey that spanned many years. At the end of it I had integrated my birth experience, healed my trauma and was equipped with new tools and techniques to help other Post Natal Mothers heal from their birthing journeys as well. This also led me to offer both Pregnancy and Post Natal Kahuna Massage Treatments as a way of supporting mothers from conception all of the way through to the 4th Trimester. I also created the program "The Goddess Birthing Journey" to help mothers understand birth as a 'rite of passage', accepting and embracing the transformation that occurs as we move from maiden to mother.
The Breast Cancer 'Rite of Passage'
For years I struggled as a solo parent, being both Mother and Father and sole financial provider. I juggled running my own business with the overwhelming needs of a highly sensitive child. Spending so long in survival mode, with the constant financial, emotional, physical and mental stress as well as unresolved emotional issues and other toxic environmental factors led me to being diagnosed with Breast Cancer in 2017.
Who would have thought that this part of the journey could reap some of my greatest gifts! Having to face my mortality, being unable to work after surgery, requiring expensive medical support and declining the usual cancer treatment options all humbled me and taught me the importance of community and tribe. I finally realised that not only didn't I need to do it all on my own, it was actually really beneficial to create deeper connections with friends and family. I understood that life involved giving and receiving and that it was my time to receive. I changed my diet, my relationships, my approach to life and embarked on a journey to rewire my brain from worry, anxiety and stress, to optimism, trust and ease.
This experience did also highlight the fact that I may not have been around to teach and guide my own daughter as she matured and transitioned through puberty and into Womanhood. This sparked a deep desire to teach young girls about their own 'coming of age' experiences, and the SHAKTI girls program was born!
Through these major transformational experiences and other minor life transitions I have learned many things. I have re-claimed my power, I have learnt to trust my intuition, I have discovered the greatest gifts through the biggest challenges and I have embodied many practices and teachings along the way. I have learned how to honour the feminine within myself and through that I have been able to extend these teachings to other women. Through honouring the feminine I have been able to bring more personal balance to my internal masculine and feminine dance in a way that serves every aspect of my being.
All of the services that I offer through my business are designed to be able to support you at every step along the way of your 'rites of passage' experience. Whether it is through puberty, pregnancy, birth, parenting, menopause, change of career, relationship turmoil, emotional upheaval or spiritual disharmony there is something for you. Please contact me directly to see how we can tailor an experience to meet your needs.
Sending you so much love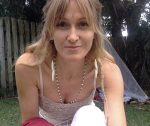 Kahuna Massage Specialist * Civil Marriage Celebrant * Shamanic Practitioner * Rites of Passage Facilitator
Would you like to share this with others?
Or follow Shekinah here...