So, you are getting married and little did you know that "Yes" was going to lead to so much work!
There may feel like a million things to organise once you have set that date. Booking a venue will probably be your number one priority but second on your list should be finding the perfect Marriage Celebrant!
What is a Marriage Celebrant?
A Marriage Celebrant can be a number of things but most importantly they will be the person who makes sure that all the requirements are met so that your marriage is actually official and legal, otherwise you are just having a very expensive party!
There are two kinds of Marriage Celebrant…
Religious; Ministers of Religion can become Marriage Celebrants to officiate ceremonies within their designated religious traditions. They are usually known as Religious Marriage Celebrants. Many churches require you to use their own Marriage Celebrants when using their venues for a wedding ceremony as permission to marry within a church is quite often only given to members of their religion.
Civil;

A Civil Marriage Celebrant can perform religious and non-religious weddings. The majority of celebrants are Civil Marriage Celebrants and they can officiate a marriage being held anywhere within the country they are registered in.
"Make sure that the Marriage Celebrant you choose feels like a good match for you both!"
What do they do?
You may have noticed that a Marriage Celebrant can cost anywhere from a few hundred to a few thousand dollars! Why is there such a price difference between these different celebrants?
As mentioned earlier the most important thing that a Marriage Celebrant will do is make sure that all legal documents before and during the wedding ceremony are completed correctly and sent to the appropriate institutions to make your marriage official! You want to ensure that you have confidence in your celebrant and that they are professional, reliable and capable of taking care of these requirements first and foremost.
However a good Marriage Celebrant will do so much more than that!
1. Phone Call or Initial Meeting: It's important that you feel comfortable and have a connection with your Marriage Celebrant, there are so many to choose from you can definitely find the person that fits your style and personality. Many of us are master chameleons and can officiate many kinds of weddings really well!
2. Completing the NOIM: The Notice of Intended Marriage must be completed at least one month before your wedding date and can be lodged up to eighteen months beforehand. Some of the best Marriage Celebrants get booked up quickly, especially on those favourites days and months of the year, so don't leave your choice til the last minute!
3. Legal Documents: There are quite a few legal documents that must be complete before the ceremony and a few that need to be done on the day. They must be filled out correctly and sent to the appropriate organisation on time. It can take a while to gather all of the 'original' items and paperwork that you will require to fill out these forms, so definitely don't leave it until the last minute! Marriage Celebrants are bound by law and cannot overlook missing or incomplete documents as this may jeopardise the legality of your marriage.
4. Standard Marriage Certificate: You will sign and receive an "Official Marriage Certificate" on your Wedding Day. However if you are wanting to legally change your name after your wedding you will need a 'Standard Marriage Certificate" and these need to be applied for separately. This requires many of the same items that the NOIM requires, and therefor your Marriage Celebrant can sight them at the same time as completing your NoIM. If you are planning on changing your name after marriage this little extra can save you lots of time and a trip to your local Justice of the Peace.
 5. Submitting documents: All legal documents need to be submitted after the Wedding Ceremony. Some will stay with the Marriage Celebrant and some need to be sent to Births, Deaths and Marriages in the state that you were married in. They have to be lodged within 2 weeks of your Wedding Ceremony.
 6. Styles: What style or theme will your wedding day be? Are you looking at a beach wedding, a casual wedding, an elopement style, traditional, alternative or themed wedding? Discussing ceremony styles and wording is one of the fun things that a celebrant can help you with.A Marriage Celebrant usually creates the wedding ceremony for you, so exploring all of the ideas you have is a really important part of the creation process!
What Rituals would you like to include? (I provide many ritual packages already and I can incorporate just about anything into your special day, just ask!)
VIPS who may want a special part (Some couples like to include parents, children and other loved ones in their ceremonies)
Custom Themes (Regardless of your wedding style, from beach, to boho, cocktail dress to star wars themed, it's nice to have a celebrant who will embrace your style wholeheartedly! Make sure they are into it, it will make the day just that much more memorable!)
Poems and Readings can be an important part of your Wedding Day. (It is the perfect opportunity to include a person you love in the ceremony, incorporate your favourite poem into the proceedings, or have a more traditional flavour on the day.)
Music is so important, most couples choose to have a special song for the aisle walk but it's also important to have some songs for the signing section of the ceremony and perhaps even one to celebrate at the end! (If you don't have any favourites your Marriage Celebrant can suggest songs that will be appropriate for you and your partner to enjoy on the day.)
7. Personal Vows: There is a minimal vow requirement to cover the legal part of your wedding, however many couples love to write their own personal vows to one another. A Marriage Celebrant can help you find the perfect way to express your love on the day!
8. Creating the Ceremony: The Marriage Celebrant writes and creates your Wedding Ceremony from scratch. Finding the perfect flow that incorporates the legal necessities while still keeping it light, connected, heartfelt and meaningful requires some skill! Having a unique wedding that is personalised to your needs and desires is another of the most important services that a Marriage Celebrant can provide.
9. Rehearsal Wedding Ceremony; Whether you are having a big or a small ceremony, it is really important to at least visit the venue with your Marriage Celebrant to run through the logistics for the day. Placement of people and items, knowing how long it will take to walk down the aisle, seeing where the sun will be, ensuring a Plan B for outdoor weddings and getting a feel for the venue before your wedding day will help to reduce unexpected issues and fears of the unknown. If you have a big wedding party, or VIPS in your ceremony, it is great to include them in the rehearsal experience.
10. Ongoing support: You will probably have a zillion questions as you plan your wedding day, you should be able to contact your Marriage Celebrant throughout the lead up to your special day. We want your day to run as easily and smoothly as possible too, so no question is too silly!
11. Support on the day: Your Marriage Celebrant will probably arrive before your guests so that they can set up the PA system, check sound volume and make sure that everything is ready for the ceremony. They can make special announcements before the ceremony begins, help settle guests and ensure the smooth and efficient running of the Wedding Ceremony before during and after.
12. PA System and microphone: I have not been to many weddings, whether they were intimate or quite large, that didn't require some voice enhancement so that all guests could hear the wedding ceremony. The elderly and those who may be sitting further away all want to feel like a part of your ceremony. Ensuring that your celebrant has a high quality speaker and microphone that will be loud enough and clear enough to reach all the guests is vital!
13. Table for signing: Many venues will provide a table and chairs for signing of the legal documents on the day. However, sometimes for beach or park weddings you will need to bring your own. Many Marriage Celebrants can provide a signing table and chairs for the day….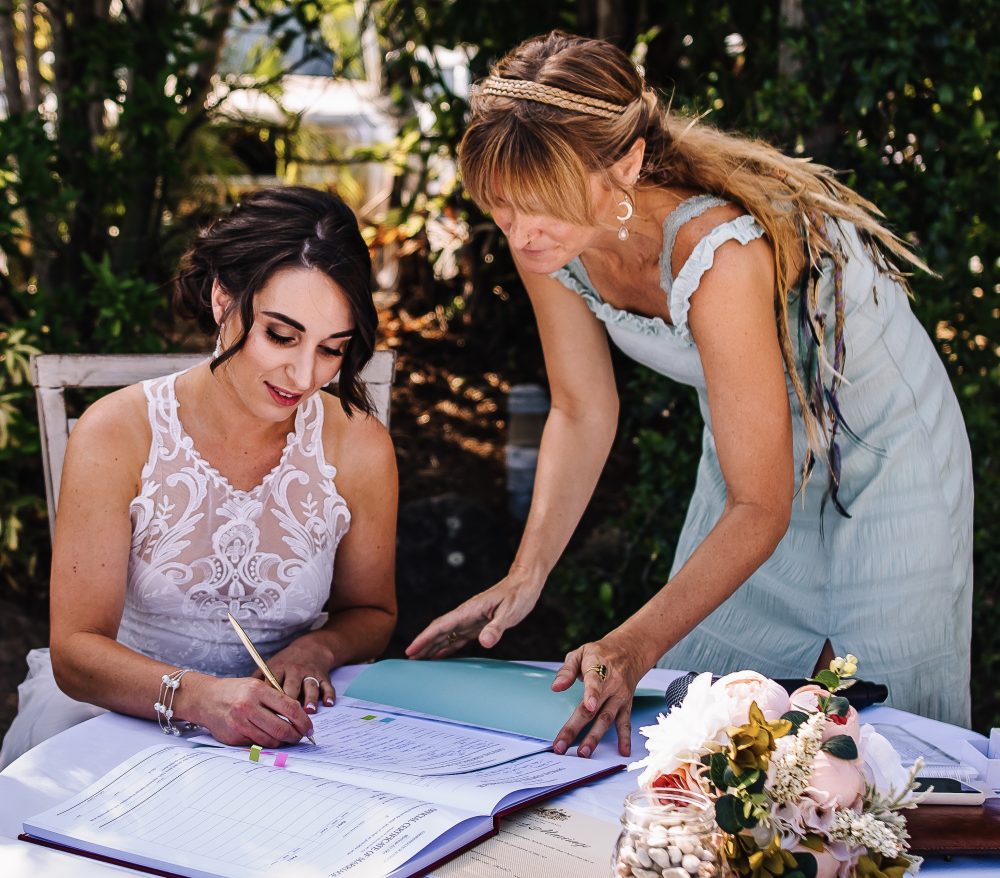 As you can see a Marriage Celebrant provides so much more than just a few words at your wedding. They are an integral part of your Wedding Day! Many people don't understand just what goes on behind the scenes leading up to the actual ceremony. Due to the time and effort involved in meeting, lodging legal forms before and after your ceremony, answering on-going questions, creating your wedding ceremony and keeping that special date just for you, you will find that most celebrants will charge a non-refundable booking fee and now you know why!
Remember, turning up on the day is only half of the job, so I encourage you to value the time that your celebrant spends on you from the very first moment you make contact. You may pay a little extra for the perfect Marriage Celebrant but it will be worth it in the end! Your celebrant will be up front and centre with you for one of the most memorable days of your life, you want to feel like they are a good match for you!
I wish you the best of luck during your wedding planning and the most beautiful Wedding Day imaginable. If you are still looking for the perfect celebrant for your special day, please contact me to discuss your needs and ideas…
Much Love
Would you like to share this with others?
Or follow Shekinah here...